HAVOK are excited to reveal plans for a winter tour in early 2018 supporting metalcore giants Killswitch Engage and thrash legends Anthrax. Havok, who just finished a killer set at this year's OZZFEST will be on the road starting on January 20 throughout March 10 on the "Killthrax" tour in addition to various one-off headlining gigs along the way.
Vocalist and guitarist David Sanchez adds, "These Killthrax shows are going to kill and thrax. We expect to see some rowdy crowds and we couldn't be more stoked to check another one of the Big 4 off of our bucket list! Prepare for maximum riffage…"
HAVOK's latest album and CENTURY MEDIA RECORDS debut, "Conformicide", was lauded by Metal Injection as "a modern thrash classic". Featuring the band faster and angrier than ever before, "Conformicide" is devilishly designed to make heads bang uncontrollably and fists pump vigorously.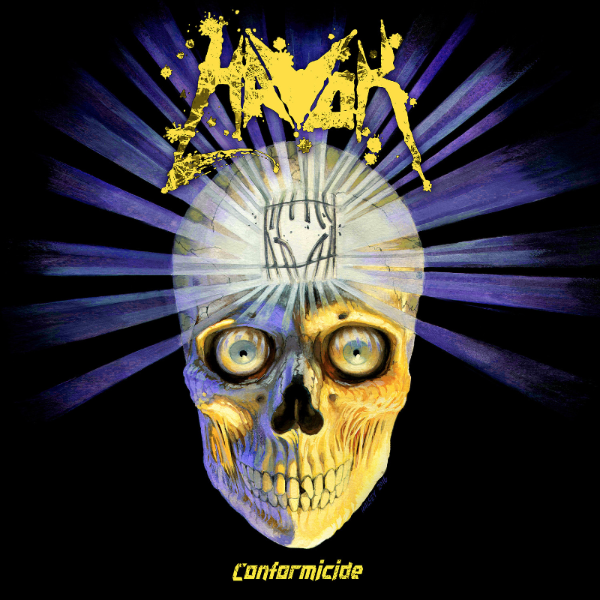 Watch the video for "Intention To Deceive" here: https://youtu.be/2GT9m0jX9vw.
Listen to more music here:
"Ingsoc" – https://www.youtube.com/watch?v=jP2pzw8jV9s
"Hang 'Em High": https://www.youtube.com/watch?v=2HYIfA3p8jw
Get "Conformicide" now at http://smarturl.it/HAVOKconformicide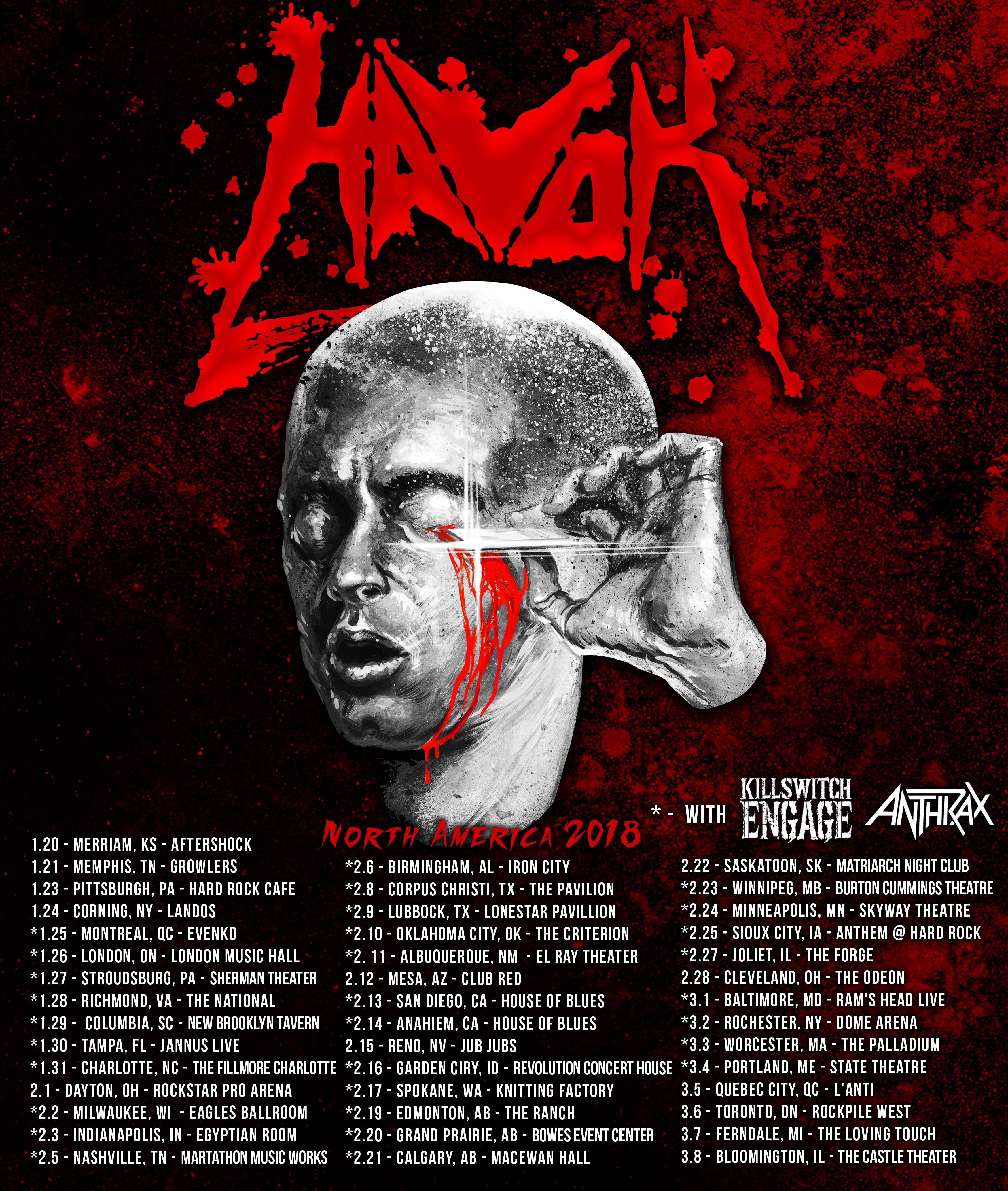 HAVOK TOUR DATES:
1/20 Merriam, KS – Aftershock #
1/21 Memphis, TN – Growlers #
1/23 Pittsburgh, PA – Hard Rock Cafe #
1/24 Corning, NY – Lando's #
1/25 Montreal, QC – MTelus
1/26 London, ON – London Music Hall
1/27 Stroudsburgh, PA – Sherman Theater
1/28 Richmond, VA – The National
1/29 Columbia, SC – New Brooklyn Tavern #
1/30 Tampa, FL – Jannus Live
1/31 Charlotte, NC – The Fillmore Charlotte
2/1 Dayton, OH – Rockstar Pro Arena #
2/2 Milwaukee, WI – Eagles Ballroom
2/3 Indianapolis, IN – Egyptian Room
2/5 Nashville, TN – Marathon Music Works
2/6 Birmingham, AL – Iron City
2/8 Corpus Christi, TX – The Pavilion
2/9 Lubbock, TX – Lonestar Pavilion
2/10 Oklahoma City, OK – The Criterion
2/11 Albuquerque, NM – El Rey Theatre
2/12 Mesa, AZ – Club Red #
2/13 San Diego, CA – House of Blues
2/14 Anaheim, CA – House of Blues
2/15 Reno, NV – Jub Jubs #
2/16 Garden City, ID – Revolution Concert House
2/17 Spokane, WA – Knitting Factory
2/19 Edmonton, AB – The Ranch
2/20 Grand Prairie, AB – Bowes Event Center
2/21 Calgary, AB – MacEwan Hall
2/22 Saskatoon, SK – Matriach Night Club
2/23 Winnipeg, MB – Burton Cummings Theatre
2/24 Minneapolis, MN – Skyway Theatre
2/25 Sioux City, IA – Anthem @ Hard Rock
2/27 Joliet, IL – The Forge
2/28 Cleveland, OH – The Odeon
3/1 Baltimore, MD – Ram's Head Live
3/2 Rochester, NY – Dome Arena
3/3 Worcester, MA – The Palladium
3/4 Portland, ME – State Theatre
3/5 Quebec City, QC – L'Anti
3/6 Toronto, ON – Rockpile West #
3/7 Ferndale, MI – The Loving Touch #
3/8 Bloomington, IL – The Castle Theater
# Havok only
HAVOK Online:
Website: http://havokband.com
Facebook: https://www.facebook.com/HavokOfficial
Instagram: https://www.instagram.com/havokbandofficial
Twitter: https://twitter.com/havokthrash
230 total views, 0 views today